World Savvy and the Institute for International Education, IIE, Welcomes New Partnerships with Nebraska Colleges and Universities
The Malaika Foundation hosted a Global Education Consortium, September 25th, with 58 representatives from nine Nebraska Universities and Colleges, Nebraska Department of Education, Lincoln Public Schools, Opportunity Education,Lincoln Community Foundation, and Malaika Board, Ambassadors and Council Members.

World Savvy presented opportunities for the Global Competence Certificate, a 15 month online graduate level certificate in collaboration with Teachers College-Columbia University and the Asia Society. Dr. Allan Goodman, President, International Institute of Education,IIE, and Wagaye Johannes, Project Director for the Generation Study Abroad video conferenced the many advantages for Nebraska Colleges and Universities to join Generation Study Abroad to increase the numbers of undergraduates traveling abroad and information on fellowships for global studies. Malaika Board Member Dean Jacobs told the group about his adventuresome travels to over 50 countries and strategies for exciting exploration in the classroom.



Ken Simon, Director of Programs & Dana Mortenson, Co-Founder and Executive Director, World Savvy - preparing youth to thrive as responsible global citizens in the 21st century.


Malaika Foundation Webmaster Kim Cox, Secret Valley Media Labs and Laura Snell, World Food Prize Nebraska Youth Institute Coordinator, University of Nebraska-Lincoln.


Malaika Foundation Board Members-Dean Jacobs, world explorer and photographer and Kelli King, Program Coordinator, W.H. Thompson Scholars, University of Nebraska-Lincoln.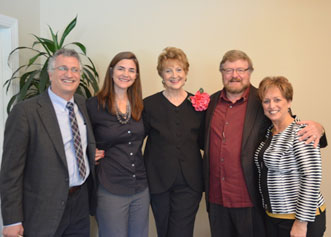 World Savvy Team - Ken Simon and Dana Mortenson, Natalie Hahn, Malaika Foundation President, Doug Christensen,Chairman of the Malaika Board of Directors and Nancy Biggs, Chair-Education Department, Nebraska Wesleyan University.